Facial tips
Everything you need to know about Rosa Moschata
21 Mar, 22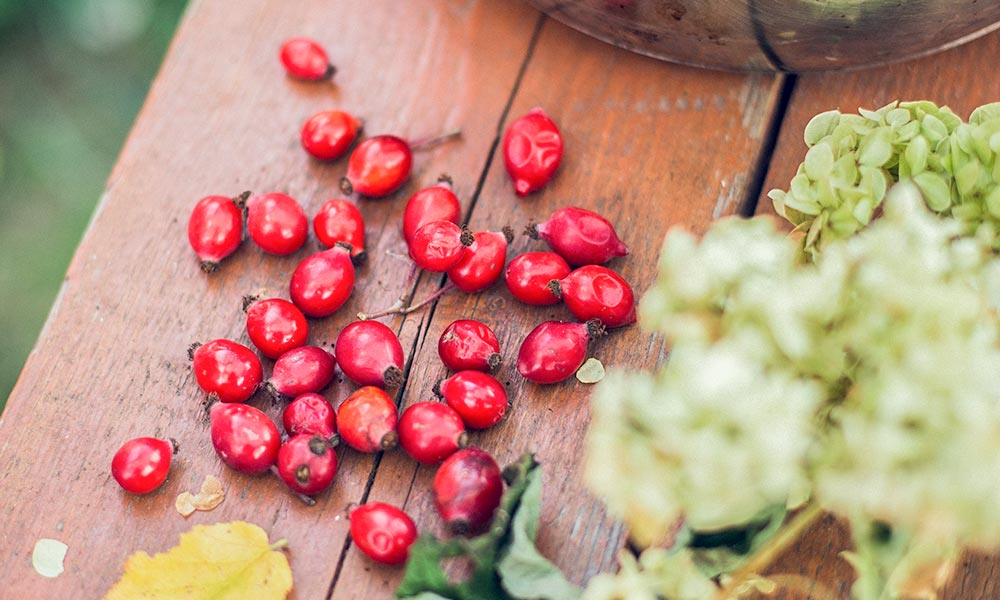 When and why this plant started being used
The therapeutic use of Rosa Moschata began in Patagonia, where it was used to moisturize the skin, heal wounds and treat ailments. However, it wasn't until the end of the 20th century that the Faculty of Chemistry and Pharmacology at the University of Concepción in Chile confirmed its usefulness based on a rigorous study.
The benefits of this plant are partly due to its high fatty acid content, which is extracted from the oil of the rosehips (the fruit of the plant) using a cold pressing process. This oil is composed of unsaturated fatty acids – such as linoleic acid -, saturated fatty acids – such as natural tretinoin – and omega 3, 6 and 9 essential fatty acids. The latter are responsible for cellular tissue growth and regeneration, as well as being highly astringent. This makes Rosa Moschata or Rosehip Oil a perfect healer, which is why it is used in both medicine and cosmetics to treat wounds, sutures, burns, epidermal marks or other types of skin damage that require a product with healing and regenerative properties.
However, the benefits of rosehip don't end there, as it's also widely used in cooking, especially in countries like the United Kingdom, where the whole fruit is used to make sweets, infusions, pastes, sauces, etc. Thanks to its composition rich in Vitamins C, A and E, many benefits have been attributed to rosehip, including toxin removal, wrinkle reduction, improved digestion and strengthened defenses.
How Rosa Moschata is grown
As we've already mentioned, Rosa Moschata is a type of wild shrub. It's very hardy and spreads easily, making it perfect for hybridization with other species.
Rosa Moschata can be grown from either seeds or cuttings. It's also its hardiness that makes this plant perfect for growing on practically any surface, at any time of year. Nevertheless, planting it at the start of spring is recommended, and if transferring it to another area, do so six weeks after planting.
For planting, all you need is plenty of soil surface that's resistant to water-logging, which must be kept damp. The soil must be pH-neutral and it's advisable to enrich it with substrates such as worm humus.
If planting from cuttings, these should measure about 25 centimeters, 15 of which should remain beneath the soil, with only 10 centimeters of the plant poking out. On the other hand, if planting the seeds directly, bear in mind that the soil must get twelve hours of light and about eight hours of darkness per day. Once the seeds have germinated, they need indirect light for about eight hours a day.
How Rosa Moschata oil is extracted
Rosa Moschata or Rosehip oil contains omega 3, 6 and 9 essential fatty acids. It has a reddish-yellow color and a light texture that helps it absorb easily without blocking the skin. But how is the oil obtained? We'll tell you:
After growing during the months of February, March and April, the plant bears fruit, which must be hand-picked to prevent damage. This harvesting process should not be done until the fruit is fully ripe in order to avoid damaging it in any way.
After this first step, the pre-drying phase begins using sunlight. Then comes the drying -using trays where the fruit is dehydrated- followed by moderate-temperature drying chambers so as not to damage the rosehips.
Next, the dried rosehips are ground, which is when the seeds are separated from the remaining pulp. It's from this seed, using a mechanical cold press, that the rosehip oil is obtained, which accounts for about 8% of the total seed weight.
Dermocosmetic benefits of Rosa Moschata
As the benefits of Rosa Moschata are studied, the list seems to grow. However, some of the dermocosmetic uses associated with this plant are as follows:
Combats the signs of aging
Rosehip oil is another natural ingredient that stimulates collagen and elastin production. Its oil can reach the deepest layers of the skin, acting on the cells that produce these molecules, which are responsible for the skin's firmness and elasticity. Furthermore, due to its composition rich in essential fatty acids, antioxidants and vitamins A, C and E, rosehip
acts against the free radicals that cause aging skin, as well as reducing dark spots due to sun exposure.
Reduces scarring
As we mentioned at the start of this post,
Rosa Moschata is a plant with a high regenerative capacity,
making it perfect for treating burns, scars or acne marks on the skin. In addition, not only does it improve pigmentation, restoring the skin's previously healthy appearance, it also improves its texture. This is possible due to its acid content, which affects skin repair and flexibility. It's important to point out that, to benefit from this plant's oil, it must be applied to healed wounds, i.e. to scars or subsequent blemishes. That's when the essential fatty acids penetrate the skin, evening the tone and regenerating the surface. The product must also be applied regularly and consistently, as the result isn't immediate, but can be seen in the long term.
Treats acne and rosacea
Some oils have anti-inflammatory qualities, and therefore help to treat acne. Rosehip oil is one of them, making it great for the following types of acne: papules, pustules, nodules or superficial cysts. Furthermore, it can also help to treat non-inflammatory acne or blocked pores thanks to Vitamin A and linoleic acid, which together help to regulate sebum production, thus preventing blackheads and pimples.
In terms of using it to treat rosacea, many dermatologists recommend rosehip oil because of its nutrients, which can help to improve the skin's protective barrier. In this case, the product stands out for its composition rich in ascorbic acid, phenolic compounds, essential fatty acids and being highly moisturizing, thus preventing flaking and irritation by keeping the skin hydrated and balanced.
Moisturizes and improves skin texture
Rosehip oil has emollient properties that help to improve skin hydration and texture. Emollients are lipids and oils that moisturize, soften and increase flexibility. All of which improves the skin's protective barrier, ensuring that the skin's natural moisture levels are optimally maintained.
As you already know, rosehip oil contains linoleic and gamma-linoleic acid, two components that help to retain water in the skin by acting on the epidermal structure to prevent moisture loss.
Rich in essential fatty acids, its composition prevents skin damage, resulting in flaking. Dryness is a sign of loss of flexibility and smoothness. This can be prevented by properly moisturizing the skin with products that stimulate natural oil production, as well as working to prevent their loss, achieving nourished skin.
How to use it on your skin
We've already shared with you the properties of rosehip oil, but now we want to tell you how you should use this ingredient if you also want to benefit from it.
As we've explained, reducing facial blemishes or scars isn't something that can be achieved immediately, but it will happen if you're consistent with the treatment. However, other dermocosmetic benefits, such as improved skin hydration, will achieve visible results in a much shorter time frame.
In any case, the key to achieving visible results is consistency. Most products or treatments should be applied every twelve hours. That is, you have to introduce them into your morning and evening beauty routines. For how long? For as long as necessary, and the longer the better, because if your skin tends to behave in a certain way, it will need products that help it regulate that tendency.
Introduce Rosehip Oil into your routine
If you're thinking of introducing this ingredient into your beauty routine, whether to reduce blemishes, treat scars, acne or moisturize, at Babaria we have a wide range of products that you'll love:
Rosehip Facial Oil
100% pure oil that will help you combat the signs of aging and moisturize, improving collagen and elastin production.
Rosehip BB Facial Day Cream SPF50
BB Cream with a high SPF and anti-pollution and anti-aging properties that helps to protect against the formation of free radicals.
Rosehip Make-up Remover Wipes and Micellar Water Make-up Remover
Two products that will help you deeply cleanse, soften and nourish your skin. Furthermore, both are suitable for sensitive skin and contain beneficial ingredients such as Vitamin E, in the case of the wipes, or Glycerin, in the case of the Micellar Water.
Anti-Dark Spot Facial Range
Comprises four products. Two day and night creams, an intensive anti-dark spot serum and an eye contour cream, with rosehip as the main ingredient of three of these products to reduce dark spots. A range with an anti-aging, lightening, moisturizing and depigmenting action. Now you know all the benefits of Rosa Moschata or Rosehip, how the oil is obtained and how it can help your skin. What's next? Introduce this fantastic ingredient into your routine to improve the quality of your skin.