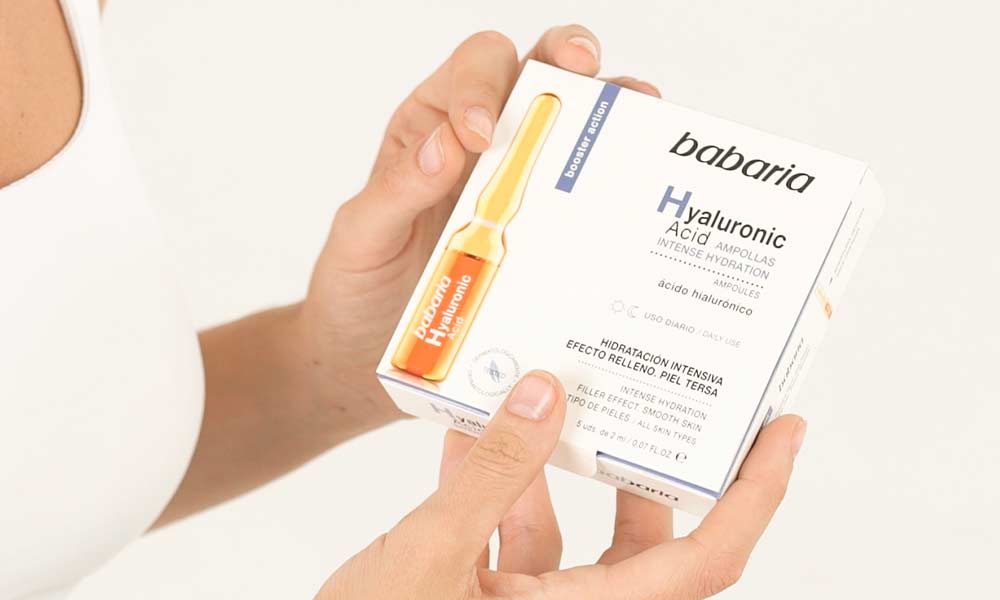 Rejuvenate your skin and restore its softness with the ultra-hydrating function of this treatment
Deeply hydrate your skin and restore its firmness in three steps with our range of Hyaluronic Acid products. This treatment is formulated with hyaluronic acid, an intelligent nutrient which adapts to the needs of your skin, stimulating collagen and elastin production and achieving a filling effect. Furthermore, this component penetrates the skin, deeply hydrating it, evening its tone and providing it with softness. A ritual that you can use both in the morning and at night, and which is also recommended for all ages and skin types. Want to know how to use them? We'll tell you!
Step 1 – Hyaluronic Acid Ampoules
Hyaluronic Acid ampoules achieve a filling effect and also moisturise the skin, promoting water retention and collagen and elastin production, which means that they are your allies for correcting those signs of ageing. Applying them is very easy. In the box you'll find a safety cap; place it on the upper part of the ampoule to break it and be able to remove the product. Next, insert the applicator – which you'll also find in the box -, and apply the product to the face, neck and décolletage. Then, gently massage with the fingertips to encourage absorption.
Step 2 – Ultra-hydrating Serum
With this serum, you'll hydrate your skin, plump, reduce flaccidity, fill the different areas and even the entire complexion. Can you ask for more? For the skin to absorb it properly, you only have to apply a few drops to the face. Next, spread it over the different parts of the face, neck and décolletage, using small strokes with the fingertips. These strokes should go from the centre outwards in order to correctly spread the serum. In the case of the neck and décolletage, you should use upward movements to cover the area well. Then, you just have to wait a few seconds for the product to absorb.
Step 3 – Facial Cream
Hyaluronic Acid Facial Cream is the final step in this beauty ritual. With this, you'll completely hydrate your skin – as it penetrates the deepest layers – you'll provide elasticity and you'll protect it from the environment, thanks to the sun filter. To apply it properly, spread a small amount over the face, starting from the lip area. Then, you only have to make upwards circular movements to spread the product and encourage its absorption.