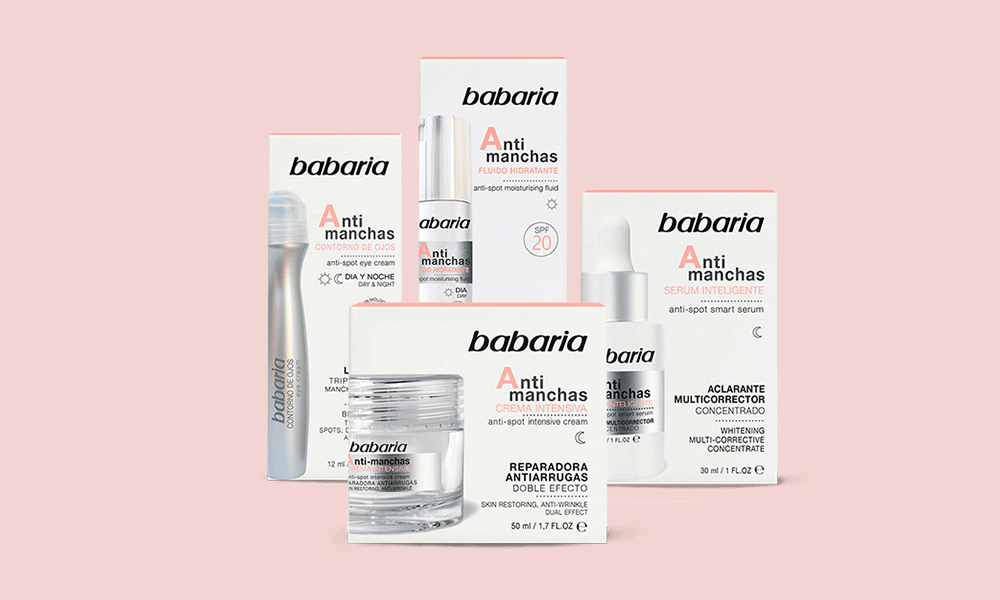 In the continuous pursuit of blemish-free skin, one of the main concerns is how to correct skin spots, such as redness, acne scars, hyperpigmentation caused by the sun or ageing, etc. Although these types of marks may be caused by many different factors, they are treated in a common way because, regardless of their origin, the treatment aim is the same: to even the skin tone to improve or correct any imperfections.
What causes dark spots?
These types of marks are caused by natural ageing and sun exposure, which leads to abnormal melanin accumulation; a common concern in both women and men of all ages. To combat this problem, at Babaria, we have developed an Anti-Dark Spot line comprising four products which act morning and night to reduce, correct and prevent the appearance of spots on the skin, as well as offering sun protection. This new range aims to avoid damage to the deepest skin layers, preventing abnormal melanin accumulation, which is what develops into unwanted localised hyperpigmentation. A smart treatment which adapts to every skin tone, responding according to any needs that it may have.
How to apply the Babaria Anti-Dark Spot treatment
Below, we'll explain how to correctly apply our Anti-Dark Spot Treatment products so that you can benefit from all their properties.
Morning anti-dark spot routine
First Step – Anti-Dark Spot Eye Contour Cream
To start, apply the Anti-Dark Spot Eye Contour roll-on for bright eyes, which has a triple action against dark spots, dark circles and wrinkles. A product which evens the skin tone and reduces dark spots caused by ageing, helping to achieve bright, rested eyes. This roll-on reduces eye bags caused by water accumulation as well as those caused by excess fat. A recommended daily solution for that delicate area. It has a steel-tipped applicator, which relieves and revitalises the area and applies Lightening Active Ingredients, Hyaluronic Acid and a combination of Peptides to the skin.
Second Step – Anti-Dark Spot Moisturising Fluid
The second step in the morning routine involves applying the intensive anti-ageing protective Anti-Dark Spot Moisturising Fluid, a daily protector which should be applied before leaving the house, as it acts by protecting the skin against external environmental factors, such as solar rays. This cream also has an anti-ageing, antioxidant and anti-pollution effect and contains SPF 20 to protect the skin against the harmful effects of UVB and UVA rays. A product formulated with Silanol which hydrates, reduces and prevents dark spots, as well as wrinkles and expression lines, and also contains Rosehip Oil to reduce existing dark spots.
Evening anti-dark spot routine
First Step – Anti-Dark Spot Smart Serum
To start your evening routine, apply Anti-Dark Spot Smart Serum to cleansed skin; this has a clarifying and multi-correcting function and acts by softening sunspots. A solution which should only be applied to darkened areas before using the double-effect anti-wrinkle and restoring Anti-Dark Spot Intensive Cream. Our Anti-Dark Spot Smart Serum contains Rosehip, Vitamin E, Lightening and Depigmenting Active Ingredients and Glycolic Acid, which acts as a peel, removing superficial the skin layers and regulating pigmentation in the regenerated skin. The formula's effects are visible after 15 days, and its maximum effect is obtained following 2 months of application.
Second Step – Double-Effect Anti-Dark Spot Intensive Cream
The double-effect anti-wrinkle and restoring Anti-Dark Spot Intensive Cream is the second step of the evening anti-dark spot routine. This product repairs the skin and reduces wrinkles thanks to the combination of Rosehip and Silanol, which improves imperfections, keeping the skin hydrated and preventing signs of ageing, such as expression lines. To optimally enhance its effect on the skin, massage it into the face to help it absorb.
Third Step – Anti-Dark Spot Eye Contour Cream
Finish your evening routine by applying the Anti-Dark Spot Eye Contour roll-on once again, leaving the product on all night. This way, you'll achieve radiant eyes, preventing the appearance of dark spots and expression lines in the area; an action which is enhanced by using the same product each morning.
Visible results on the skin
Our new Anti-Dark Spot line helps to even the skin tone, regardless of colouring, as it uses a smart technology which adapts to the particular characteristics of the skin. This product range has been especially designed to even the skin's appearance, reduce unwanted pigmented areas, provide the face with luminosity and safely protect against photoageing. Furthermore, joint use of the products in this line will act on the skin, providing it with the hydration that it needs and preventing wrinkles and other signs of ageing. A complete range which effectively acts on the different parts of the face, according to their needs.