Facial tips
Lifting effect, firmness and elasticity in three steps
29 Jun, 22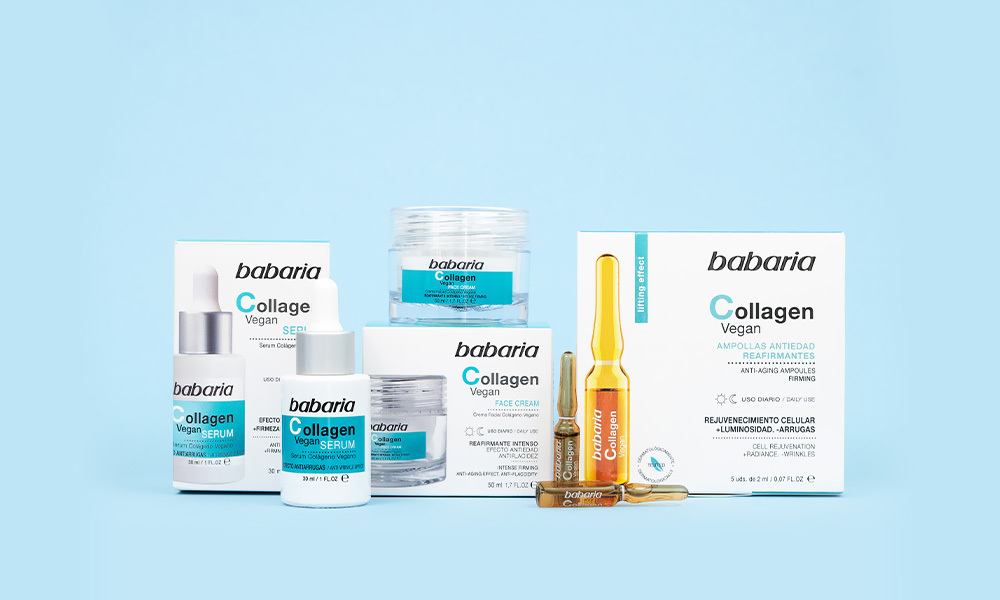 New Vegan Collagen line
Did you know that Collagen is the most abundant protein in the human body? Its main function is to generate resistant fibers, which provide firmness and elasticity to the skin. However, from the age of thirty, production of this protein starts to slow, which causes the first signs of aging such as wrinkles, crow's feet and loss of skin volume.
At Babaria, we remain firmly committed to our values of proactivity and innovation. That's why we've created our new Vegan Collagen line, with 100% of its active ingredients derived from wild plants. Its lifting effect provides firmness and reduces signs of aging.
Vegan Collagen Routine
Anti-aging Ampoules
Our daily-use Vegan Collagen Ampoules rejuvenate the skin by increasing its elasticity and firmness. They also help to reduce the length and depth of wrinkles and improve skin flaccidity.
Serum
Our plant-based Vegan Collagen Serum instantly reduces wrinkles and expression lines. After 30 minutes, crow's feet appear reduced, and skin flaccidity is improved.
Face cream
The final step is our Vegan Collagen Face Cream. Also of plant origin, it helps to firm and redensify the dermis, reducing flaccidity to visibly rejuvenate the skin.
Now you know each step of our Vegan Collagen routine, apply it and enjoy youthful skin!