Facial tips
Protect your skin in just 3 minutes and enjoy the sun!
29 Jun, 22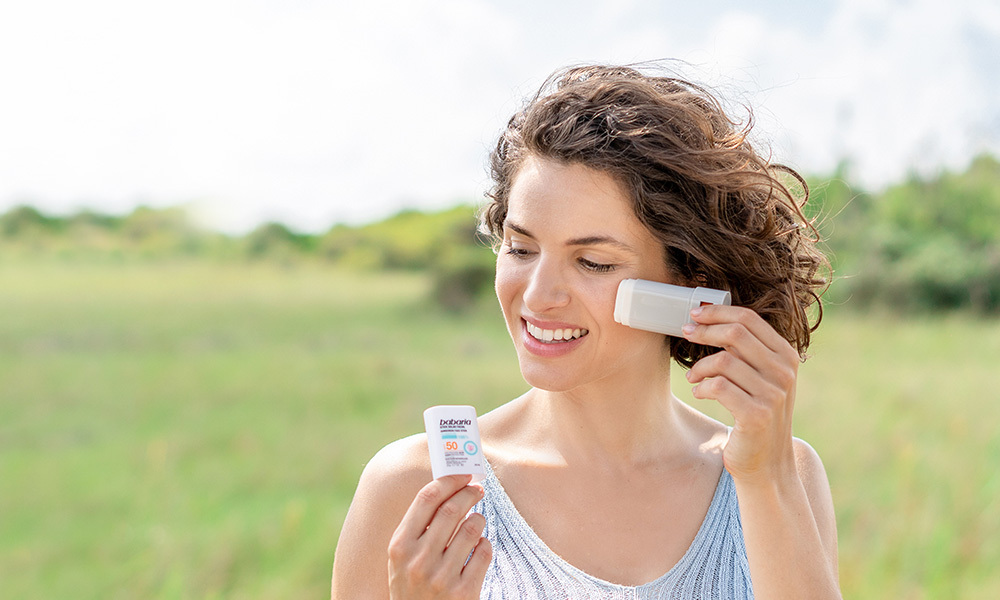 They say that mothers always know best, whether that's drinking milk for strong bones or applying sun cream every 10 minutes. When you were a child, this was the last thing on your mind - all you wanted to do was splash about in the sea all day.
But this has changed over the years, as we've all become more aware of the importance of sunscreen to protect the face and body from the effects of the sun and from harmful UVA and UVB rays. So today, we're sharing our top five sun protection tips:
1. Use sunscreen.
This is key! Choosing the right sunscreen for your skin is the first and most important thing you should do. Babaria has a wide sun protection range, and in the next section you'll find the four facial products that'll become your summer sunscreen essentials.
2. Drink plenty of water to keep your skin hydrated.
Drinking fluids helps replenish the water and mineral salts lost through sweating due to prolonged sun exposure.
3. Wear long sleeves, a hat or cap and sunglasses.
While high temperatures might make you want to dress in short sleeves, shorts or bikinis, wearing protective clothing and accessories is recommended. Clothing with SPF or garments made from natural fabrics such as cotton and linen are some good options.
4. Avoid the midday sun.
Try to avoid sun exposure between midday and 4pm. This is when the sun is at its strongest and, therefore, has the greatest effect. Stay in the shade!
5. Avoid exposing your skin to the sun for more than 20 minutes at a time.
Opt for less time, more times; that way, you'll avoid serious sunburn and other effects such as heat or sunstroke.
Summer essentials
Mineral UV Facial Fluid SPF50
The new summer essential! With a high SPF to protect against UVA, UVB and IR rays, solar radiation and pollution, this water-resistant fluid is formulated with mineral filters, making it suitable for the most sensitive skin.
Photoage Face Cream SPF50+
Tinted or invisible? Whichever you choose, our Photoage Multi-Protection Creams SPF50+ reduce wrinkles caused by photoageing and even the skin tone. Their Photoage 360° technology provides total anti-aging protection.
Protective Lip Balm SPF30
Remember to protect your lips! Our SPF30 lip balm regenerates, moisturizes and heals the lips thanks to Aloe Vera and a high SPF.
Facial Sunscreen Stick SPF50
Protection meets speed. Our Facial Stick SPF50 protects the most sensitive areas of the face and body, including tattoos. It's also water resistant and contains Aloe vera and shea butter as active ingredients.
All these products are water resistant and, more importantly, #CoralFriendly. Want to learn more? Click here!

Finally, remember to wear facial sunscreen every day and reapply several times a day. Now, with all the energy in the world, let the summer begin!