Hair Tips
How to protect your hair from the sun this summer
13 Jul, 22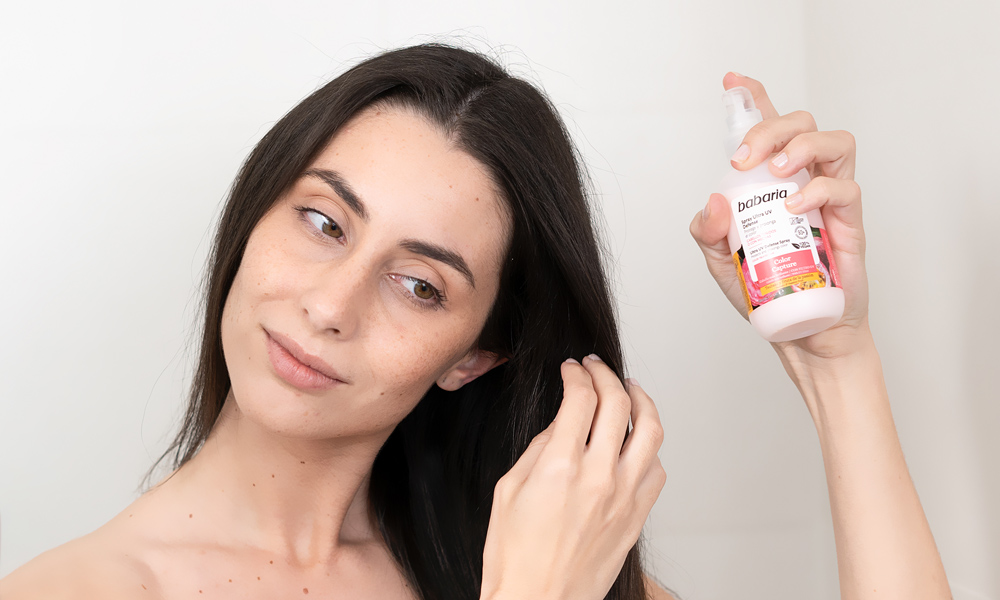 Every year we're becoming more aware of the importance of protecting our skin from sun exposure, but what about our hair? It's a part of the body that we tend to forget about, but it's just as affected by the sun as our skin.
Chlorine, saltwater and ultraviolet rays can all cause hair damage, as they weaken it and affect the pigment in the case of dyed or highlighted hair.
It's therefore essential to protect your hair in summer to ensure both short-term and long-term results. Using protective hair products will help you prevent hair loss, color fade or bleaching, as well as protecting the natural shine of your hair.
At Babaria, we have everything you need, and we'll show you how you can protect your hair to keep it healthy and shiny all summer.
Protect your hair at the beach or pool
Formulated with Sunscreen and Aloe Vera, our Aloe Hair Protector prevents dryness and bleaching. It also contains Vitamin B5 and a Conditioner to keep your hair nourished. Remember to use it before sun exposure and reapply frequently!
Your perfect home routine
It's vital you know how to care for your hair after sun exposure. That's why we're going to tell you which Babaria products you can use to keep your hair shiny and nourished.
Color Capture Protective Shampoo
Protects and moisturizes dyed or highlighted hair. Its formula with Tsubaki and Passion Fruit revives the color and protects the hair from external aggressions.
Color Capture Balm
Together with the shampoo, this product is for daily use. It nourishes, revitalizes and prolongs the color of dyed or highlighted hair. Formulated with a UV Filter, it contains antioxidant and moisturizing properties that protect the hair from external agents for a shinier, longer-lasting color.
Color Capture Mask
Applied once a week, this mask prolongs the color and revitalizes shine while deeply moisturizing and nourishing the hair.
Color Capture Spray
Used dry, this spray has a similar function to the other products we've mentioned. It contains a UV Filter to protect the hair and prolong its color, as well as reviving shine.
Now you know how to get healthy, protected hair, you can enjoy the sun without any worries!